28 décembre 2012
5
28
/

12
/

décembre
/

2012
19:52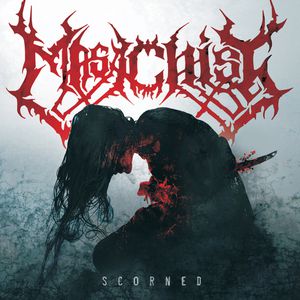 SELFMADEGOD RECORDS/ 2012
Poland strikes back ! This strong nation of european death metal sends us another band to rip everyone's ears with some sick, scalpel-like death metal. Masachist proposes its second album with members that are not newbies at all.
In fact we can find members from Yattering, Vesania, Azarath and some ex-Decapitated too.
Listening to the whole stuff, we can hear that Masachist proposes some dark and oppressive death metal. They're not doing some extra fast with total blast death metal but anyway they are still brutal.
Their stuff is more based on sick atmospheres, something very heavily loaded. They do it a bit in Acheron way, see what I mean ?
That is what gives us this old school touch and it is the feeling we have since the first notes of « Drilling The Nerves ».
Sickness goes on with the distorted riffs from « The Process Of Elimination ». The atmosphere is kind of disturbing and disturbed. The use of keyboards in their metal reinforced the feeling that we have here really gloomy.
« Straight and Narrow Path » is gloomy as hell too. The breaks and this oppressive rythm will give nausea to every pop music lover while it pleases and bewitches every good ol'death metal freak. The changes of mood here are fantastic and all remains as aggressive as massive.
We can think of Hate and Decapitated with the brutal way of « Manifesto (100% D.M.K.H.) »that sows craziness with its fucked up riffs, the stunning drums and the invocative throat. Once again here, all provides from the atmospheres mixing freezing one to some more exploding other.
Behemoth lovers shall raise « Higher Authority » that is a real call for war and hate. The stuff is as headbangable as if the devil investigates your brain and your soul to command you to do this !
« Opposing Normality » got its strength from its horror movie like beginning and also to its technicity. The freaks manage to take control upon everything here. The guitars are slicing the flesh up and down, bass hypnotizes you, drums are kicking brutally your head 'till your eyes emerges and the vocals are exploring deep into your guts. The butchers are kings of torture with their songs.
Maybe you would think that « Liberation » shall ease your mind thanks to its title but no way. Sorry for you guys who listen but the massacre continues. Keyboards are used again here to twin the torture to some odd and hollow aura and you end comes with the « Liberation pt II ».
Even if you are buried, the polish guys come to exhume your body to use it as a toy for an ultimate time. Some oppression, some sufferance, this song is dark as fuck underlined by jeyboards tending to annihilate every survivor. Originality comes with this soprano voice used for some seconds and the global stuff can remind of some good ol' Morbid Angel.
« Scorned » is a real good album. As dark as oppressive, it manages to explode with brutality though they don't make it fast. It is a punch in the face from the devilish guys who propose these nine tracks. Death metal is a low and Masachist proves it !